Let's face it, there's so much tire stuff going on these days, it can seem quite overwhelming. From a plethora of compounds to choose from, multiplied by the numerous tread patterns, and then include in all the different surface situations, factor in the heat and humidity, nailing the right tire can get confusing. Now we've made it easier with the all-new JConcepts Track Tire Guide. As our team travels around the world to compete, we'll be filling one of these out where ever we go to help YOU get dialed in even faster! JConcepts has you covered!
The idea with the tire guide is to keep the tire data simple and organized so that you spend less time trying to figure out or remember what the fastest tire is from open practice, qualifying, and mains. With input from World Champions like Maifield, Cavalieri, Spencer Rivkin, and from many other talented drivers, you'll have the latest JConcepts tire info at your disposal. Get ready, get dialed, it's even easier than before!?
See all our Track Tire Guides by clicking HERE or click the individual ones below.
If you would like to fill out and print your own Track Tire Guide click HERE.
---
Maifield's Track Tire Guide from the Summer Off-Road Shootout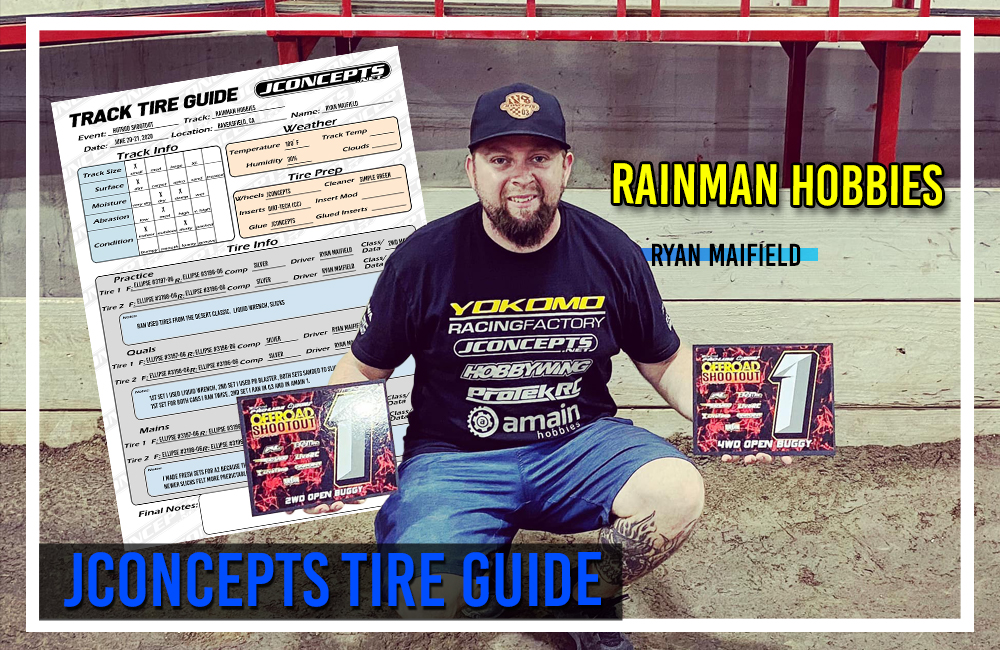 ---
Dakotah's Tire Guide from the 2020 Desert Classic
---
Julien's Tire Guide from Buggy Mania 2020
---
Dakotah's Tire Guide from the Winter INS10
---
Broc Champlin's Tire Guide from the 2019 Florida Carpet Championships
---
Will Brinton's HobbyPlex Tire Guide
---
AJ Marasco's Beachline Raceway Tire Guide
---
Lee Setser's Guide from NewRed Hobbies
---
Jake Thayer's OCRC Tire Guide
---
Spencer Rivkin's Tire Guide from the Summer INS9
---
Ryan Maifield's from 2019 E-Nats
Reno's Tire Notes From the 2019 EUROS
---
Ray and Lachlan Munday's Tire setup from Shepparton, Australia
---
Tire Guide from the 2019 Fuel Nationals – Spencer Rivkin